In modern society, new rock wool materials have been widely used in construction, metallurgy, chemical industry, electric power, petroleum, agriculture, machinery, light industry, textile, military, transportation, storage and other industries. Various buildings, industrial furnaces, boilers, heat exchangers, distillation towers, storage tanks, cold storage flues, pipes, valves, fans, air conditioners, vehicles and ships, as well as the development of modern defense, aerospace, and atomic energy technologies are inseparable. Open this new type of multi-functional material for thermal insulation, sound absorption and noise reduction.
1. Building Energy Efficiency
Since 2009, the application of insulation rock wool in the construction field has developed rapidly. From an annual production capacity of less than 200,000 tons, it has quickly reached an annual production capacity of nearly 2 million tons. With the introduction of GB / T25975-2010 "rock wool products for external thermal insulation of buildings", the quality has also been greatly improved, reaching or even surpassing the level of similar products in Europe.
As a Class A fireproof material, rock wool is widely used in external wall insulation systems. In foreign countries, mature product standards and system certification guidelines have been formed. In China, the use of rock wool as a building insulation material has been steadily increasing, especially in the fields of public buildings, high-rise buildings and civil buildings that have high requirements on fire protection. The application of rock wool in buildings mainly includes three application forms: external wall external insulation, fire insulation belt, and roof insulation.
Exterior wall insulation engineering. It is used for the energy-saving and thermal insulation of external walls of residential buildings and public buildings as required by the 50% and 65% targets of building energy conservation, as well as the thermal insulation of industrial buildings and existing buildings. Insulation works for public buildings.
Fire barrier. Carry and separate the molten insulation material, control the total amount of combustible materials in the separation area; prevent the flame from spreading inside the system; improve or maintain the structural stability of the protective surface layer of the system. Under fire conditions, it can prevent or slow the attack of the fire source on the thermal insulation system inside and outside the direct fire zone, and prevent the flame from spreading through the external thermal insulation system. At the same time, it can also maintain the stable existence of its own fire-blocking structure. Effectively prevent the flame from spreading inside the system.
Roof insulation system. Roofing system using high-strength fire-resistant rock wool board as the thermal insulation layer and load-bearing layer of the building roof, and combined with flexible waterproof coils, vapor barriers, and system fasteners, often used in industrial plants, airports, shopping malls, stadiums And storage facilities such as steel structures or concrete flat roofs. The system is suitable for various climatic conditions, and is a new type of roofing system with functions of safety, fire prevention, high energy efficiency and sound absorption and sound insulation.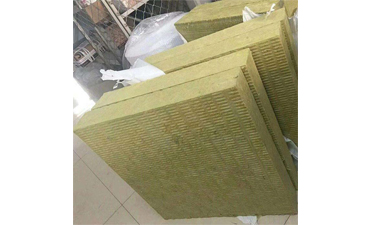 External Wall Rock Wool Insulation Board
2. Shipbuilding
With the development of the shipbuilding industry, China's marine cabin materials have experienced a development process from simple to complex, from low-level to high-level, from non-standard to standard. As a new type of non-combustible cabin material, composite insulation rock wool board cabin material has been widely adopted by shipbuilding industry at home and abroad. At present, the quality of composite rock wool boards made in China has gradually approached similar foreign products. As early as the late 1990s, major domestic shipyards basically completed the process of replacing composite silicate boards with composite rock wool boards and replacing imported imported rock wool boards with domestic composite rock wool boards.