Ceramic Fiber Pipe / Aluminum Silicate Pipe
Ceramic wool fiber blanket is composed of long, flexible...
Product parameters
Ceramic Wool Pipe
Density
100-180kg/m3
Length
1m
Diameter
φ18-610mm
Thickness
30-100mm
Remark
Special size can be customized
Product Features
Ceramic wool fiber blanket is composed of long, flexible, interwoven fibers manufactured by the 'blown' and 'spun' process yielding a strong, lightweight yet durable fiber blanket for applications in a temperature range from 1260℃ to 1600℃. Refractory ceramic fiber blanket has the heat resistance of a hard refractory with five times better insulation value.
Features
1)Fire resistance and high temperature resistance
2)Good flexibility
3)Fiber is average
4)Good tensile
5)Flame retardant and waterproof
Advantages
1)Aluminum silicate ceramic fiber is the main raw material
2)Unique two-sided needling process design
3)High temperature non-combustible
4)Finer fiber and better heat resistance
5)Safe and Safe formaldehyde-free
6)Strict production process
Application
1)Thermal insulation for electric boilers, steam turbines and nuclear power plants
2)High temperature pipe and wall of heating device
3)High temperature reaction equipment for chemical industry
4)Furnace door, top cover heat insulation
5)High-rise buildings are fireproof and insulated
6)Heat insulation for stress relief of various metals
7)Various heat insulation and sound insulation projects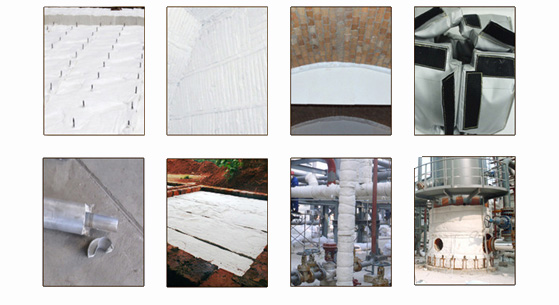 Production process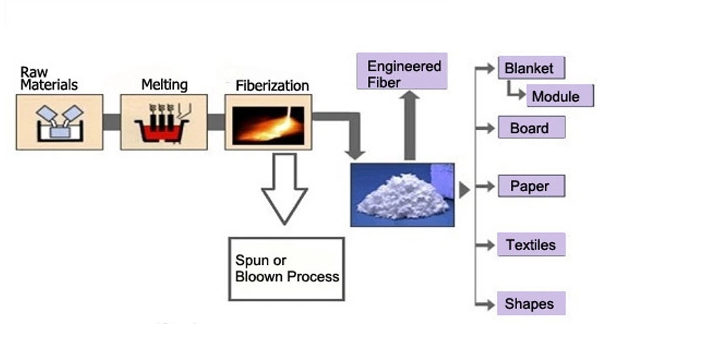 TECHNICAL INDICATORS
Description
Common
Standard
High Purity
High Alumina
Zirconia
Maximum temperature (°C)
1100
1260
1260
1360
1430
Working Temperature (°C)
< 1000
1050
1100
1200
1350
Color
white
white
white
white
white
Density (kg/m3)
96-128
96-128
96-128
128-160
128-160
Shrinkage(%)of heating 24 hours
-4
-3
-3
-3
-3
(as density 128 kg/m3)
(1000°C)
(1000°C)
(1100°C)
(1250°C)
(1350°C)
Thermal conductivity (w/m.k)(Density 128 kgs/ m3)
0.09(400°C)
0.09(400°C)
0.09(400°C)
0.12(600°C)
0.16(800°C)
0.16(800°C)
0.16(800°C)
0.16(800°C)
0.20(1000°C)
0.20(1000°C)
Tensile strength (MPa)
0.04
0.04
0.04
0.04
0.04
(density as 128kg/m3)
Chemical composition(%)
AL2O3
44
46
47-49
52-55
39-40
AL2O3 & SIO2
96
97
99
-
-
AL2O3 & SIO2 & ZrO2
-
-
-
99
99
ZrO2
-
-
-
15-17
15-17
Fe2O3
<1.2
<1.0
0.2
0.2
0.2
Na2O & K2O
≤0.5
≤0.5
0.2
0.2
0.2
FAQ
FAQ

1. Are you a manufacturer or a trading company?
We are a manufacturer which has 30 years' history.
2. Can you accept OEM or ODM?
Of course, Logo is also acceptable.
3. What is the delivery time?
About 10-20 days after the contract signing.
4. What is your payment methods?
T/T L/C Paypal West Union and others .
5. Where is your manufacturer? How to visit it?
Our factory located in Binhai New Area, Tianjin, China. Mainly producing pre-insulated pipes, mineral wool insulation products and other insulating materials. You can take a plane to Beijing or Tianjin, then take a train to our company.
6. How do we control our products' quality?
We have professional quality control workers and quality inspection machine to control the entire production quality. We can also provide an inspection which was offered by a third party.
7. Can I customize some other sizes of products?
Yes! We can according to the customer's request. If you have any other questions, please don't hesitate, contact us.
SERVICE
SERVICE
1. Timely response: to your inquiry in 24 hours, quickly respond mails and provide solutions.
2. Free sample: Sample and trial order are accepted for the quality evaluation.
3. Shorter delivery time: Book the earliest vessel or plane to guarantee the delivery time.
4. Professional Services: Provide high or cold temperature solutions and professionals installation and technology services for you.